School that is...for my kiddos. Tuesday is their last day! How did this happen? I know that every year I say that the year has passed so quickly, but this year seemed to go even quicker. Maybe it's because I kept myself busy with different things with both Emily's school and Josh's Crew? Whatever it is, the time just went all too quickly. Not to mention that I will soon have a child in China, a Sophomore at Ga. Tech, a Jr. in HS and a 2nd grader. Lordy...I'm feeling old!
The excitement of the End of the Year Party is over. The party was on Friday and I think everyone enjoyed themselves. We had a beach theme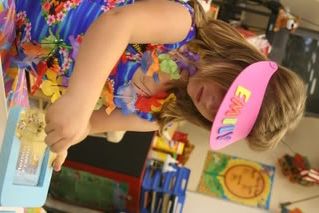 and different centers for the kids to enjoy. I still need to get pictures printed for the seashell frames that they made I should do that while I'm on the computer this morning.
Yesterday was the big Boone Crew 20th B-day Party. My friend Wendy threw this together in a matter of maybe 6 weeks. We tried to reach out to as many former rowers as possible but with the somewhat short notice, we only had a few there. But, it was still a success, I think. We had it at a local golf course/country club. Complete with lunch, a silent auction and a golf scramble. The weather was almost PERFECT! A little breezy for golfing, but none of the golfers seemed to mind. The kids stayed at the clubhouse to swim while we waited for the golfers to finish. We then headed off to Don Pablo's for dinner...and finally made it home after 9pm. It was a long day, but so much fun!
Today is another busy one. Our neighborhood homeowner's association is having a "spring fling". A cookout and mingle with the neighbors type thing. Should be fun!
Then its dress rehearsal/picture day for Emily. Her dance recital is in just a couple of weeks and now the fun begins with that. Dress rehearsal today, tech rehearsal and recital next week. This too, is another thing coming to an end for the season.
Summer is almost here!!