I didn't get a chance to get a picture yesterday and almost forgot to get one this morning. The bathroom is coming right along now!!!
We're all drywalled in, and the tile has started going up on the shower walls. I am so excited! He plans to work a bit this weekend so by Monday we should be ready to paint!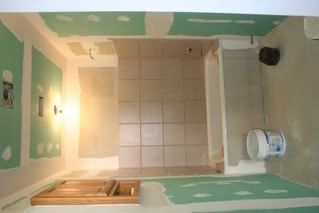 I worked the concessions for the Orlando Magic playoff game last night. This is one of our biggest fundraisers for Crew...the concessions for the Arena. OMG, we were sooooooooo busy last night. SLAMMED BUSY! They told us not to make too many hotdogs because it was an 8pm game and most people will probably eat before coming to the game. HA...what did THEY know? We made like 60 hot dogs...and ended up having to keep them rolling...we sold over 400 of them darn things!!! It was amazing! I got home after midnight and didn't get to sleep till after 1. I'm exhausted today!
I have to get ready for the big States Regatta in Tampa today. Heading out around 1:30...wish us good weather and great rowing!! It's been a tough season for our boys this year...it'd be nice to have them medal this weekend! They've overcome so much adversity...they deserve to win this weekend!
Off to vacuum and dust...need to leave a clean house for the housesitter.